Blogging Drives Business Growth
It's almost 2019, and your business either doesn't have a blog, or it is time to upgrade and assess how your blog can really help function as a tool for business growth.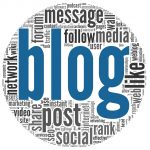 Why Does Your Business Need a Blog?
A business blog is a marketing channel (just like social media, direct mail, email marketing, etc.) that helps support business growth. It does that by continually driving targeted traffic to your website and providing opportunities for that traffic to convert into sales.
Companies who use blogs receive 67% more leads than those who do not.
Business blogs are 13 times more likely to enjoy positive ROI.
Blogging is cost-effective in that the only thing you really need to spend is time.
Businesses who blog receive 97% more links directing to their website.
Blogs have been rated as the fifth most trusted source for accurate online information. Blogging Drives Traffic
Blogging is a crucial part of digital marketing because it allows you to quickly disseminate helpful information to your followers and new site visitors. This will help build credibility, SEO, and helps you become more of an expert leader in your industry.
Blogging has an extreme long-term impact. The longer and more often you blog, the more traffic you'll generate over time.
Search Engine Ranking
The more pages your website has, the more you have to rank in search engines. The problem is, you don't just want to throw up random web pages all over your site. That would be an awful user experience. Business blogging is a solution to that problem. Every time a new blog post is posted on your website, you have a new web page on your website. The new page is under your blog so your website doesn't get cluttered. Your website flows and the visitors experience on your website finds it easier to navigate and locate.
Every blog should have a "call to action" by the reader. Not all blogs will generate leads but the results are better than you may think.
While the only real cost of blogging is time, you may be thinking that it is a big commitment. You are right, it does! Starting and maintaining a blog isn't a one-day task. It takes planning, resources, and the effort to gain adequate ROI. That is why companies are outsourcing their blogs to experienced copywriters who can not only write "on the mark" blogs but can represent your brand through marketing.
Business blogging is a low-cost way to create opportunities to get your website found by the people that you want to find it, so you can generate new leads and customers for your business. I work with WordPress which is the most popular blogging tool.
So, are you ready to get started? Got some blogging subjects swimming in your head? I will write your blog and post it on your social media accounts. I post on the three major social media platforms: LinkedIn, Facebook and Twitter.